Eastern Qigong Healing Center
Our Acupuncture Clinics
Holistic Weight Loss
Essence Tai Chi
Qigong Class on Video
Press Releases
Our Healing Services
Qigong Healing
Distance Healing
Acupuncture
Our Healing Therapies
Modern Chinese Medicine
Treatable Illnesses
Patients Must Know
Group Events
Testimonials
Progress Reports
Founder
Our Mission
Oriental Culture Institute
Tom Tam's Books
Health Tips
Healthy Recipes
Online Shopping
Sister Sites
Useful Links
Holistic Weight Loss
Hypothyroidism for 10 Years - Lost 3 lbs in the First Week
Basic Information:
Female

Age: 46

Symptoms: cold limbs, buffalo hump, enlarged thyroid (goiter), neck/shoulder pain, herniated disc @ C6, weight gain - about 10 lbs, nausea, shortness of breath, osteoporosis (left hip) since 1997, menstruation stopped since 1997, weight - 128.5lbs. Wishes to go down to 120 lbs.

Initial treatment date: 2/21/2006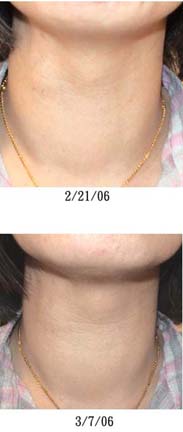 1st Week:
Healing: Both hands and feet were feeling warm during Qigong healing. Breathed deeper. Very painful at buffalo hump, C2, BL10, T5 and ST10 areas during Qigong TuiNa.
2nd Week:
Review: Very painful neck for 2 days, then it stopped by itself. Very nice sleep after 1st treatment. Limbs are warm at all times, very nice. The enlarged thyroid is slightly smaller. Lost 3 lbs. Very happy!

Healing: Very relaxed and the body is warm throughout. Very painful spot @ LU4 area on both sides.
3rd Week:
Review: Real deep sleep. Feet are nice and warm in the bed. Neck swelling is further reduced. Feeling full after a meal.

Healing: The skin color on both hands are more even. Massage C6-C7 area, very painful.
Eastern Healing Center provides Qigong healing, Pi Gu healing, Holistic Weight Loss, Distance Healing, Acupuncture and Tai Chi in Gaithersburg, Rockville, Potomac, and Germantown in Montgomery county, Maryland, and the whole Washington DC area.

Eastern Healing Center is located near the Old Towne Gaithersburg. Our office is only about 1 mile north to Rockville; 12 miles north to Bethesda, Silver Spring and Wheaton; 4 miles south to Germantwon and 6 miles east to Potomac. Gaithersburg is at the center of Montgomery county, Maryland. Montgomery County is a suburban county located in the state of Maryland, north of Washington DC.

Gaithersburg is surrounded by Rockville, Takoma Park, Barnesville, Bethesda, Brookeville, Chevy Chase, Darnestown, Germantown, Glen Echo, Kensington, Kentlands, Montgomery Village, North Potomac, Potomac, Silver Spring, Wheaton, etc.