Eastern Qigong Healing Center
Our Acupuncture Clinics
Holistic Weight Loss
Essence Tai Chi
Qigong Class on Video
Press Releases
Our Healing Services
Qigong Healing
Distance Healing
Acupuncture
Our Healing Therapies
Modern Chinese Medicine
Treatable Illnesses
Patients Must Know
Group Events
Testimonials
Progress Reports
Founder
Our Mission
Oriental Culture Institute
Tom Tam's Books
Health Tips
Healthy Recipes
Online Shopping
Sister Sites
Useful Links
Essence of Tai Chi
- The Four Minute Tai Chi Routine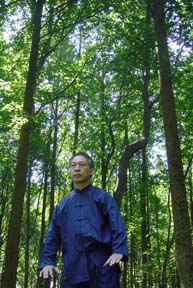 I have been interested in learning Tai Chi for many years. I had a few classes with various instructors however they never seemed to help me reach my potential. Luckily I discovered Essence Tai Chi developed and taught by Owen Liao. From my very first class I knew that Essence Tai Chi was the art that I had been looking for.
Going to my first class I thought that it would be like any other that I had experienced. I expected there to be a room full of people with one instructor with very little personal attention. However, I was gladly surprised when I found out that it would only be myself and Owen. This type of one on one teaching is virtually unheard anywhere, and facilitates the learning process since Owen invites you to ask any questions that you have at any point during the lesson.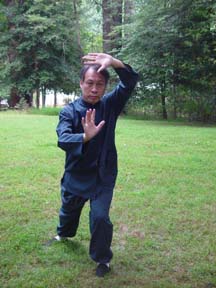 Essence Tai Chi itself is also a form that is superior to any other style of Tai Chi that I had experienced. Essence Tai Chi is a 15 step form that was developed by Owen. I found these 15 steps easy to learn and yet they delivered benefits that I had never encountered in any other Tai Chi style. From my very first class I felt my body become more rooted and centered. Not only did I feel physical benefits, but mental benefits as well as I felt that I could concentrate better. In general, I felt healthier in all aspects of my life.
Perhaps what is most amazing about Essence Tai Chi is that it is a form that only takes 4 minutes to do. Therefore, even if you have a very busy life, this is a great way to help maintain and improve your health both physically and mentally. Anyone and everyone should take Essence Tai Chi with Owen Liao.
Eastern Healing Center provides Qigong healing, Pi Gu healing, Holistic Weight Loss, Distance Healing, Acupuncture and Tai Chi in Gaithersburg, Rockville, Potomac, and Germantown in Montgomery county, Maryland, and the whole Washington DC area.

Eastern Healing Center is located near the Old Towne Gaithersburg. Our office is only about 1 mile north to Rockville; 12 miles north to Bethesda, Silver Spring and Wheaton; 4 miles south to Germantwon and 6 miles east to Potomac. Gaithersburg is at the center of Montgomery county, Maryland. Montgomery County is a suburban county located in the state of Maryland, north of Washington DC.

Gaithersburg is surrounded by Rockville, Takoma Park, Barnesville, Bethesda, Brookeville, Chevy Chase, Darnestown, Germantown, Glen Echo, Kensington, Kentlands, Montgomery Village, North Potomac, Potomac, Silver Spring, Wheaton, etc.