Owen Liao is featured on Express Night Out

FIT
Easy-to-Access Alternatives: Whole Health Medical Center Opens in Alexandria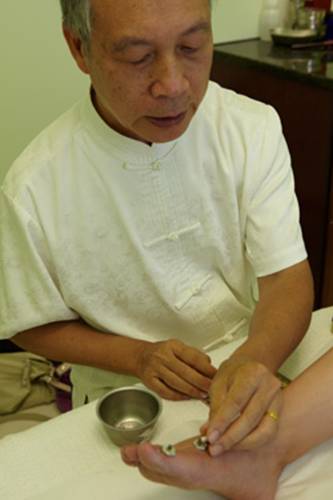 Moxibustion sounds more like a dare than a medical treatment: Light moxa — tiny sticks of mugwort — on fire and place them on your body until you're worried your flesh will burn. "When I first heard about it, I said what the heck is this?" admits Mike Petruzzi, who'd gone to Whole Health Medical Center (6910 Richmond Hwy., Alexandria; 703-901-6588) planning to get acupuncture to treat the diabetic neuropathy in his toes.
But when the 44-year-old showed up complaining of freezing feet, Whole Health director Owen Liao suggested he combine the needles with moxa, which are used in Chinese medicine to boost circulation while expelling inner dampness. "I got a feeling of energy that lasted three days," says Petruzzi, who has since gone back for two more sessions. "When I go for walks, I keep noticing how awesome it feels.
This is exactly how Whole Health, which opened in June, is supposed to work. Liao and co-founder Rose Hong wanted to create a place that brought together a range of alternative practitioners, so anyone who comes in can get the benefit of an array of services. "From the patient care standpoint, it's all streamlined," says Hong. Think of it as the Kaiser Permanente of alternative medicine, offering chiropractic care, massage therapy, nutrition counseling, anti-aging treatments and more.
That "more" encompasses plenty of options that aren't particularly common in the Washington area. That includes moxibustion, which Liao uses on body parts that are cold, reddish or pale. As he explains it, those conditions can come from a blockage in, for instance, your liver meridian. "You don't want to put a needle inside your liver," he says. So instead, you apply the moxa, relax, breathe in the aromatic smoke, and voila, the flow of energy returns. (Rather than apply the burning herbs directly to the skin, Liao specializes in an indirect version that uses sticks with foil pads on the end to avoid any discomfort.)
Another treatment you won't get anywhere else is Liao's system of Tai Chi therapy, taught privately or in small groups. He asks patients to walk for him, and then based on how they move, he teaches them simple exercises that will help improve their balance and body posture. One sample: the applaud. Stand with feet shoulder-width apart, raise your arms to your sides to shoulder level with your palms facing forward and then swing your arms forward so your palms meet in a resounding clap. Repeat. "You will do it and feel good," promises Liao.
Liao and Hong realize this sort of medicine isn't everybody's cup of tea — which, incidentally, they have available in several varieties for patients before and after treatments. But that may be because they haven't been exposed to it before.
"So many times, Eastern and Western medicine is disconnected. But every modality has its own strength," Liao says. "We offer information and let them digest it. They can decide what's better."
Patient Vicci Lancaster, 59, has made up her mind about using acupuncture and moxibustion to treat her arthritis. "I've taken prescription medication that worked, but I always wonder what's it doing to my liver and kidneys," she says. The only side effects she's experienced so far with her Whole Health treatments are extra energy and reduced appetite. Her one regret? She can't tell her late dad about it. "If I had known about this 20 years ago, he would have come with me," Lancaster says.
Photo by Marge Ely/Express
Posted By Vicky Hallett at 12:00 AM on September 14, 2010 Tagged in Alexandria , Fit , Fit Newsletter , Virginia