Eastern Qigong Healing Center
Our Acupuncture Clinics
Holistic Weight Loss
Essence Tai Chi
Qigong Class on Video
Press Releases
Our Healing Services
Qigong Healing
Distance Healing
Acupuncture
Our Healing Therapies
Modern Chinese Medicine
Treatable Illnesses
Patients Must Know
Group Events
Testimonials
Progress Reports
Founder
Our Mission
Oriental Culture Institute
Tom Tam's Books
Health Tips
Healthy Recipes
Online Shopping
Sister Sites
Useful Links
Press Release, February 2007
Essence Tai Chi Performance
Celebrate

Chinese New Year - Year 2007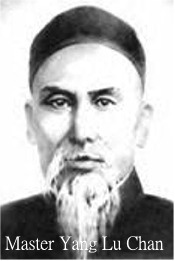 Tai Chi is the best general, all-purpose exercise for everyone -- from young children to the elderly. Tai Chi was first revealed in BeiJing about 200 years ago by Master Yang Lu Chan, the first generation Master of Yang style Tai Chi.
Yang Lu Chan was a master of GongFu. One day while walking down the street, he observed a group of gangsters rush into an herbal store. As he felt something bad was going to happen, he watched the store. Shortly, all of the gangsters were thrown out of the store. Master Yang observed the fighting technique used by the staff. Despite his experience in GongFu, he was unable to recognize the style of GongFu. Curious, he entered the store and asked the manager about the style of GongFu which they practiced. The manager advised him that it was a family Chen tradition that was not shared with outsiders. Master Yang decided to track it down. He went to the Chen family village 400 miles away and worked as a servant in the front yard for many years without learning any thing. One day he heard a series of Ha-Hoo sounds coming from the back yard. As he was very curious, he climbed up a tree and saw the Chen family practicing Tai Chi behind the high fence. After seeing this, he tried to learn Tai Chi by secretly observing their practice. Eventually, he was caught stealing the Chen family's technique. Fortunately, the Chen family recognized his talent and made him the first non-family Tai Chi student. After 2 years of study, he mastered the technique and returned to BeiJing. With the knowledge of Tai Chi, he became very famous in GongFu. He became the first non-Chen family master of Tai Chi.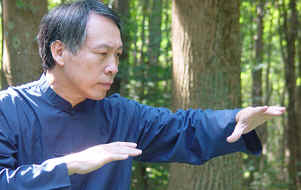 Tai Chi is a very gentle and calming exercise. It helps people increase their both inner energy and strength. People call it "Meditation in Motion." The practice of Tai Chi improves the metabolism, evens the breath, and strengthens the body's circulation. It stimulates the cells deep within the body and massages the ligaments, joints and internal organs. During the practice of Tai Chi, the joints are bathed in chi resulting in a stronger and smoother energy flow. By using more muscles than required in daily life, the practice of Tai Chi promote better balance, mobility, quality of life and confidence.
Master Owen Liao created the Essence Tai Chi routine. Because of its ease of practice and short time requirement to practice, Essence Tai Chi aims to improve the overall health for people with a busy life style. It takes 8 hours to learn and only 4 minutes to perform within a 6'x6' space. It delivers all the health benefit of Tai Chi. If practiced daily, it will improve mobility, balance and health.
The 15 movements:
1) Beginning of Tai Chi
2) Grasp Sparrow's Tail
3) Single Whip
4) Lifting Hands
5) White Crane Spreads Wings
6) Brush Knee and Twist Step
7) Needle at Sea Bottom
8) Fan through the Back
9) Fair Lady Works at Shuttles
10) Punch Opponent's Groin
11) Turn Around and Deflect Downward
12) Step Forward, Intercept and Punch
13) Withdraw and Push
14) Cross Hands
15) Conclusion of Tai Chi
Master Owen Liao's publication:
3. Tai Chi Dao Yin Qigong 12 Movement DVD
4. Eye Selfcare
Essence Tai Chi team:
Mrs. Amy Du
Mrs. Theresa Huang
Mr. Murray Kramer
Mr. Stephen Leas
Dr. Carl Myers
Chinese New Year celebration schedule:
1. 11:30am, 2/17/07, Saturday, at Aspen Hill Library, Rockville, Maryland, 20853
2. 1:00pm, 2/24/07, Saturday, at Potomac Library, Potomac, Maryland, 20854
Further information is available at www.EasternHealingCenter.com.
Eastern Healing Center
604. S. Frederick Ave., Suite 407
Gaithersburg, Maryland 20877
Phone: 301-519-2346
Email:

Eastern Healing Center provides Qigong healing, Pi Gu healing, Holistic Weight Loss, Distance Healing, Acupuncture and Tai Chi in Gaithersburg, Rockville, Potomac, and Germantown in Montgomery county, Maryland, and the whole Washington DC area.

Eastern Healing Center is located near the Old Towne Gaithersburg. Our office is only about 1 mile north to Rockville; 12 miles north to Bethesda, Silver Spring and Wheaton; 4 miles south to Germantwon and 6 miles east to Potomac. Gaithersburg is at the center of Montgomery county, Maryland. Montgomery County is a suburban county located in the state of Maryland, north of Washington DC.

Gaithersburg is surrounded by Rockville, Takoma Park, Barnesville, Bethesda, Brookeville, Chevy Chase, Darnestown, Germantown, Glen Echo, Kensington, Kentlands, Montgomery Village, North Potomac, Potomac, Silver Spring, Wheaton, etc.