Eastern Qigong Healing Center
Our Acupuncture Clinics
Holistic Weight Loss
Essence Tai Chi
Qigong Class on Video
Press Releases
Our Healing Services
Qigong Healing
Distance Healing
Acupuncture
Our Healing Therapies
Modern Chinese Medicine
Treatable Illnesses
Patients Must Know
Group Events
Testimonials
Progress Reports
Founder
Our Mission
Oriental Culture Institute
Tom Tam's Books
Health Tips
Healthy Recipes
Online Shopping
Sister Sites
Useful Links
True Internal Massage
- Tai Chi Dao Yin Qigong 12 Movements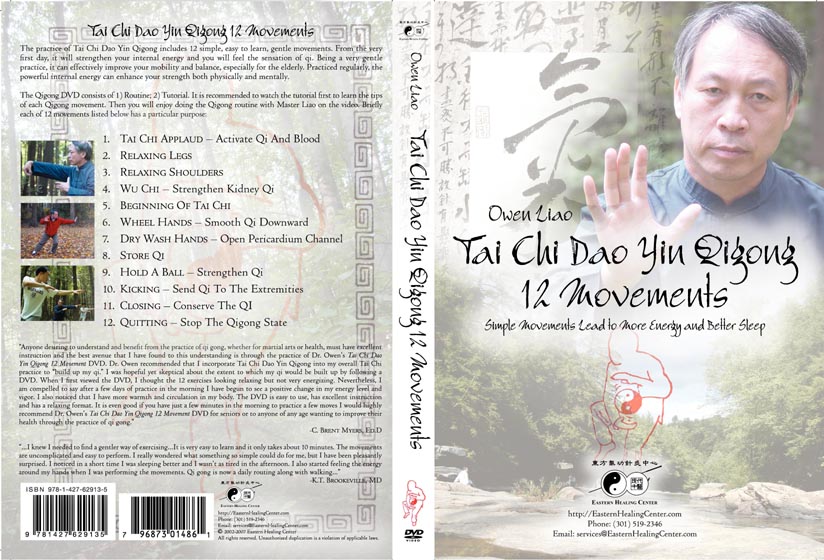 From the very first time of performing Master Owen Liao's 12 Movements (Tai Chi Dao Yin Qigong), I found them rewarding. The movements were easily learned and took only a few minutes to do. The "quitting" exercise involving finger massage of the outer ear and lobe is especially wonderful for me, invariably causing the sensation of energy movement (tingling) throughout the body, from soles to crown. The other exercises vary (for me) in the intensity of energy movement, but sometimes it can be very strong, especially during the Conserving Qi exercise (11).
As I have practiced the exercises once or twice a day for the past three weeks, the feeling of "internal massage" has slowly increased. This can be quite powerful - almost as if another person were giving a me massage! Thus, the 12 movements can create the most intense feelings of relief and relaxation.
B. T.
Eastern Healing Center provides Qigong healing, Pi Gu healing, Holistic Weight Loss, Distance Healing, Acupuncture and Tai Chi in Gaithersburg, Rockville, Potomac, and Germantown in Montgomery county, Maryland, and the whole Washington DC area.

Eastern Healing Center is located near the Old Towne Gaithersburg. Our office is only about 1 mile north to Rockville; 12 miles north to Bethesda, Silver Spring and Wheaton; 4 miles south to Germantwon and 6 miles east to Potomac. Gaithersburg is at the center of Montgomery county, Maryland. Montgomery County is a suburban county located in the state of Maryland, north of Washington DC.

Gaithersburg is surrounded by Rockville, Takoma Park, Barnesville, Bethesda, Brookeville, Chevy Chase, Darnestown, Germantown, Glen Echo, Kensington, Kentlands, Montgomery Village, North Potomac, Potomac, Silver Spring, Wheaton, etc.