Eastern Qigong Healing Center
Our Acupuncture Clinics
Holistic Weight Loss
Essence Tai Chi
Qigong Class on Video
Press Releases
Our Healing Services
Qigong Healing
Distance Healing
Acupuncture
Our Healing Therapies
Modern Chinese Medicine
Treatable Illnesses
Patients Must Know
Group Events
Testimonials
Progress Reports
Founder
Our Mission
Oriental Culture Institute
Tom Tam's Books
Health Tips
Healthy Recipes
Online Shopping
Sister Sites
Useful Links
The Way of Qigong Fasting
With the Help of Qigong, You Only Eat When You Are Hungry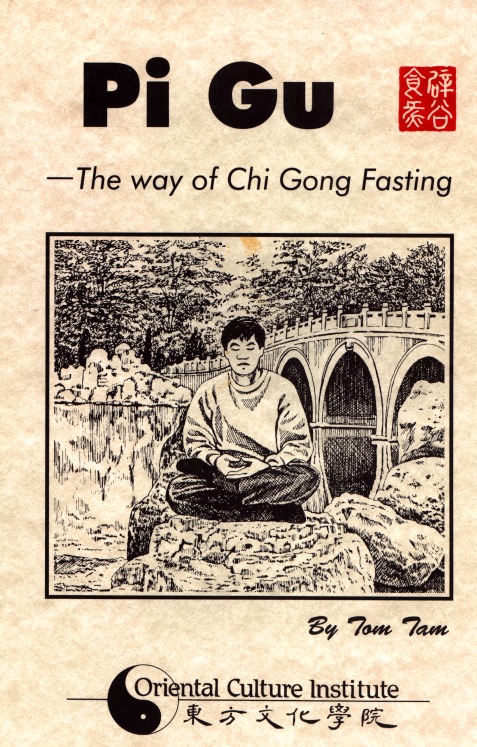 Long History in China
Pi Gu is a fasting program with the assistance of qi or energy. It originally came from traditional Taoist practices. The Pi Gu technique is at least 2,000 years old. It was lost in Chinese history for a long time, but in 1973, the Pi Gu ( 辟 谷 ) book was discovered in the form of a silk scroll in the three tombs at MaWangDui, ChangSha, China. The book is one of the very first Pi Gu books, which has only about 400 Chinese characters. The book introduced the idea of fasting by eating qi, by charging qi into the body, or doing Qigong exercise (卻穀食氣).
What is Pi Gu?
Master Tom Tam published his first Pi Gu book in 1996. Here are a few key lines from his Pi Gu book:
The meridian in the body will stay open if we practice Pi Gu. That is the real value of Pi Gu.

When we are really in the Pi Gu state we should not feel hungry while physically feeling more energetic.

During the Pi Gu treatment... I use my own qi to charge the person's DanTian and stomach areas. I then use a Qigong technique to "lock up the stomach," both to shrink it and to prevent a person from feeling hunger.

When entering the Pi Gu state, you first experience increased energy, accompanied by a relaxed and calm feeling throughout the body.

After a Pi Gu treatment, I always advise people to follow the body's signals, to eat only when the signal of hunger is felt, drink only when the signal of thirst is present.
How Does Pi Gu Healing Work?
The person should sit relaxed and ready to receive the energy.
First, the Pi Gu practitioner charges qi or energy into his or her DanTian area for a few minutes.

Second, the Pi Gu practitioner sends the qi to the person's stomach area to make the stomach smaller and feel more full.

Then, the Pi Gu practitioner focuses on the memory of particular tastes which cause food cravings. Pi Gu reduces these cravings by removing a small portion of the memory of taste each time.
Pi Gu Fasting - Lower Appetite without Using Willpower
With the above functions in Pi Gu healing, one will naturally reduce the appetite without any use of willpower. This is the Pi Gu Fasting. In many cases, the person will stop eating completely for a number of days. It is really easy to follow.
Once a person has received a Pi Gu healing, he or she can easily enter into Pi Gu state, full or half. In the Full Pi Gu State, one only drinks a little amount of water every day. One can eat some food along with water when in the Half Pi Gu State. There are many benefits to being in the Pi Gu State:
| | |
| --- | --- |
| | Feeling full, not hungry |
| | More energetic |
| | Balance the blood sugar |
| | Lower blood pressure |
| | Better sleep |
| | Lose weight |
Pi Gu Diet
Once the person is in the Half Pi Gu State, he or she should follow our Pi Gu Diet weekly routine if feeling hungry.
Pi Gu Healing - Available at Distance
As Pi Gu Healing is one of the Qigong healing services offered at Eastern Healing Center, it can be performed over distance. We can help people lose weight remotely. See our true story by distance healing.
Many Successful Weight Loss Stories
Master Owen Liao has been practicing Pi Gu healing since 1996. Many of his patients have successfully lost a lot of weight.
More Resources about Weight Loss
If you are interested in finding out the best way of determining your ideal weight, below are a few useful links for you to follow. Please let us know if you find anything better than what we know here. We are happy to list them here too.
Eastern Healing Center provides Qigong healing, Pi Gu healing, Holistic Weight Loss, Distance Healing, Acupuncture and Tai Chi in Gaithersburg, Rockville, Potomac, and Germantown in Montgomery county, Maryland, and the whole Washington DC area.

Eastern Healing Center is located near the Old Towne Gaithersburg. Our office is only about 1 mile north to Rockville; 12 miles north to Bethesda, Silver Spring and Wheaton; 4 miles south to Germantwon and 6 miles east to Potomac. Gaithersburg is at the center of Montgomery county, Maryland. Montgomery County is a suburban county located in the state of Maryland, north of Washington DC.

Gaithersburg is surrounded by Rockville, Takoma Park, Barnesville, Bethesda, Brookeville, Chevy Chase, Darnestown, Germantown, Glen Echo, Kensington, Kentlands, Montgomery Village, North Potomac, Potomac, Silver Spring, Wheaton, etc.