Eastern Qigong Healing Center
Our Acupuncture Clinics
Holistic Weight Loss
Essence Tai Chi
Qigong Class on Video
Press Releases
Our Healing Services
Qigong Healing
Distance Healing
Acupuncture
Our Healing Therapies
Modern Chinese Medicine
Treatable Illnesses
Patients Must Know
Group Events
Testimonials
Progress Reports
Founder
Our Mission
Oriental Culture Institute
Tom Tam's Books
Health Tips
Healthy Recipes
Online Shopping
Sister Sites
Useful Links
Learning Essence Tai Chi Has Been Transforming
April 2009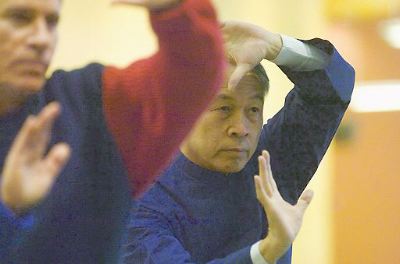 Our experience of learning Master Owen's Essence Tai Chi has been transforming. First, the Tai Chi is as effective as the much longer forms that many learn. For us, these longer forms are not practical to perform each day. With Essence Tai Chi, we have completed the form - as much as we have learned, each day. This is the most important point. Since we have completed the teaching, performing Essence Tai Chi is immediately affirming beyond the required 4 minute interval. Thus, the effect of the form developed by Master Owen is equal to the longer form yet fits into a work week of 9-10 hour days.

Although my husband had not, I had learned Tai Chi before and also Soaring Crane Chi Gong. Unfortunately, I could not assimilate these forms into my daily routine due to the length.

While I was learning Essence Tai Chi, I discussed it with my friend several times. My friend had learned the Yang Tai Chi long form and was somewhat dismissive about Essence Tai Chi. However, when I asked him when he last performed the long form --it was over 4 years. From my perspective, Tai Chi must be practiced daily for benefit so I will stay with Essence Tai Chi.

Before I learned the value of Essence Tai Chi, I decided to trust Master Owen with the time of my husband and I to take the lessons. I knew already that the weekend class approach would result in a poor understanding of the form. Also, my husband and I have very different learning styles. I prefer to learn slowly and surely so that I do not mislearn while my husband learns more quickly. Due to my preference, our lessons lasted 12 weeks. Both of us learned the form and the most pleasant classes were filled with insight and humor.
Eastern Healing Center provides Qigong healing, Pi Gu healing, Holistic Weight Loss, Distance Healing, Acupuncture and Tai Chi in Gaithersburg, Rockville, Potomac, and Germantown in Montgomery county, Maryland, and the whole Washington DC area.

Eastern Healing Center is located near the Old Towne Gaithersburg. Our office is only about 1 mile north to Rockville; 12 miles north to Bethesda, Silver Spring and Wheaton; 4 miles south to Germantwon and 6 miles east to Potomac. Gaithersburg is at the center of Montgomery county, Maryland. Montgomery County is a suburban county located in the state of Maryland, north of Washington DC.

Gaithersburg is surrounded by Rockville, Takoma Park, Barnesville, Bethesda, Brookeville, Chevy Chase, Darnestown, Germantown, Glen Echo, Kensington, Kentlands, Montgomery Village, North Potomac, Potomac, Silver Spring, Wheaton, etc.