Eastern Qigong Healing Center
Our Acupuncture Clinics
Holistic Weight Loss
Essence Tai Chi
Qigong Class on Video
Press Releases
Our Healing Services
Qigong Healing
Distance Healing
Acupuncture
Our Healing Therapies
Modern Chinese Medicine
Treatable Illnesses
Patients Must Know
Group Events
Testimonials
Progress Reports
Founder
Our Mission
Oriental Culture Institute
Tom Tam's Books
Health Tips
Healthy Recipes
Online Shopping
Sister Sites
Useful Links
Tong Ren Healing
A Tong Ren Therapy System - Beyond Acupuncture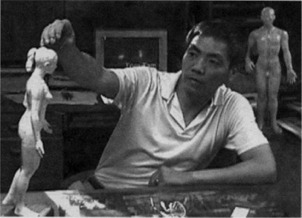 Tong Ren Healing is also called Tong Ren Therapy System, which was developed by Master Tom Tam in 1998.
In Chinese, Tong means "bronze" and Ren means "person". Tong and Ren together mean "a bronze doll". The first Tong Ren was built about 500 years ago by a doctor of Chinese Medicine by the name of Dr. Wang Wei Yi. It was for the purpose of acupuncture education and training.
Tom Tam's Tong Ren Therapy employs an acupuncture human model, Tong Ren, combined with qi that comes from the collective unconscious to perform energy healing and results in improved health of a patient. Using Tong Ren Therapy, Master Tam has helped many patients all over the world. Some of these patients have been healed while in intensive care in a hospital.
During a treatment using Tong Ren Healing System, we access the collective unconscious energy through our own qi and use it to provide healing for our patient. The qi traverses through the patientís meridians and removes obstructions or blockages in order to achieve healing. As qi is an intelligent force, it regulates body functions and automatically finds the balance that the body needs. Master Tam has trained thousands of Tong Ren healers globally. For those interested, Master Tam has published a book, Tong Ren Therapy - Beyond Acupuncture.
Below is a list of Tong Ren Healing related pages:
Meridian Tong Ren Therapy developed by Master Owen Liao.
Tong Ren Healing books are available at our online book store:

Tong Ren Therapy - Tong Ren is a distant healing technique developed by Master Tom Tam. MasterTom's practical experience and clinical observations, combined with Carl Jung's collective unconscious theory and the Chi Gong healing methods, are the foundation of Tong Ren therapy healing. Tong Ren healing has successfully treated many difficult cases, including cancer, M.S, hepatitis C, diabetes, A.L.S, H.I.V, lupus, depression, and many other diseases. The Tong Ren therapy is now used by more than 1,000 practitioners world.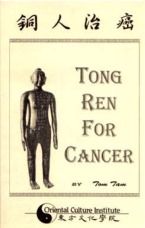 Tong Ren for Cancer - By combining the Tom Tam Healing System and Tong Ren Healing technique, it is very effective for treating cancers. Tong Ren for Cancer is Master Tam's latest book, and it has already been translated to Russian. This book will help you to understand the cancer from a very different perspective. Cancer healing has become a major part of Tom's healing practice. Tong Ren for Cancer is a revolutionary concept, and certain to bring a new understanding of cancer healing to the world.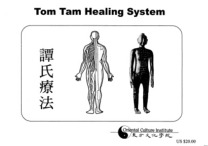 Tom Tam Healing System - Tom Tam explains his basic ideas of healing. His healing system combines Western and Eastern knowledge for a more complete understanding of the body and healing. He developed his healing system in a way that makes sense to patients and medical experts alike.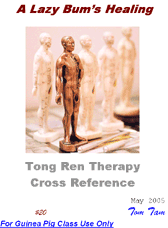 A Lazy Bum's Healing - This book is a binder of charts which show the western anatomical structures and Chinese medicine acupuncture point locations which form the basis of the Tom Tam Healing System and Tong Ren Therapy. There is also an extensive cross reference list which contains treatment points for a variety of conditions as well as specific types of Cancer.
Eastern Healing Center provides Qigong healing, Pi Gu healing, Holistic Weight Loss, Distance Healing, Acupuncture and Tai Chi in Gaithersburg, Rockville, Potomac, and Germantown in Montgomery county, Maryland, and the whole Washington DC area.

Eastern Healing Center is located near the Old Towne Gaithersburg. Our office is only about 1 mile north to Rockville; 12 miles north to Bethesda, Silver Spring and Wheaton; 4 miles south to Germantwon and 6 miles east to Potomac. Gaithersburg is at the center of Montgomery county, Maryland. Montgomery County is a suburban county located in the state of Maryland, north of Washington DC.

Gaithersburg is surrounded by Rockville, Takoma Park, Barnesville, Bethesda, Brookeville, Chevy Chase, Darnestown, Germantown, Glen Echo, Kensington, Kentlands, Montgomery Village, North Potomac, Potomac, Silver Spring, Wheaton, etc.